11 Sep

Posted By
0 Comment(s)
194 View(s)
Polluted air ; Infectious disease and wearing N95 face mask
The N95 mask is made to filter out dangerous particles, providing a lightweight and relatively inexpensive way to breathe clean air and prevent disease.
Choosing the right face mask :
Choose an N95 face mask to filter airborne particles. N95 face masks are a great option for protecting your lungs from airborne particles, which can be metal vapors (such as those created by welding), minerals, dust, or biological particles such as viruses. You can use N95 masks during an outbreak of flu, corona, or if pollutants or fires cause poor air quality. These masks are made of lightweight structural foam and fit over your nose and mouth.
Specially made versions are also available for people in industrial occupations, and N95 face masks are available for professional surgeons.
The number 95 refers to the percentage of particles that the mask can filter. N95 mask can filter 95% of dust and particles.
• Do not use the N95 mask if there are suspended oil and oil particles in the air, because the oil damages the filter. "N" actually stands for "Not resistant to oil".
Choose the right mask size: Depending on the specific type of N95 mask you choose, available sizes range from small to medium and large. Make sure the mask feels comfortable.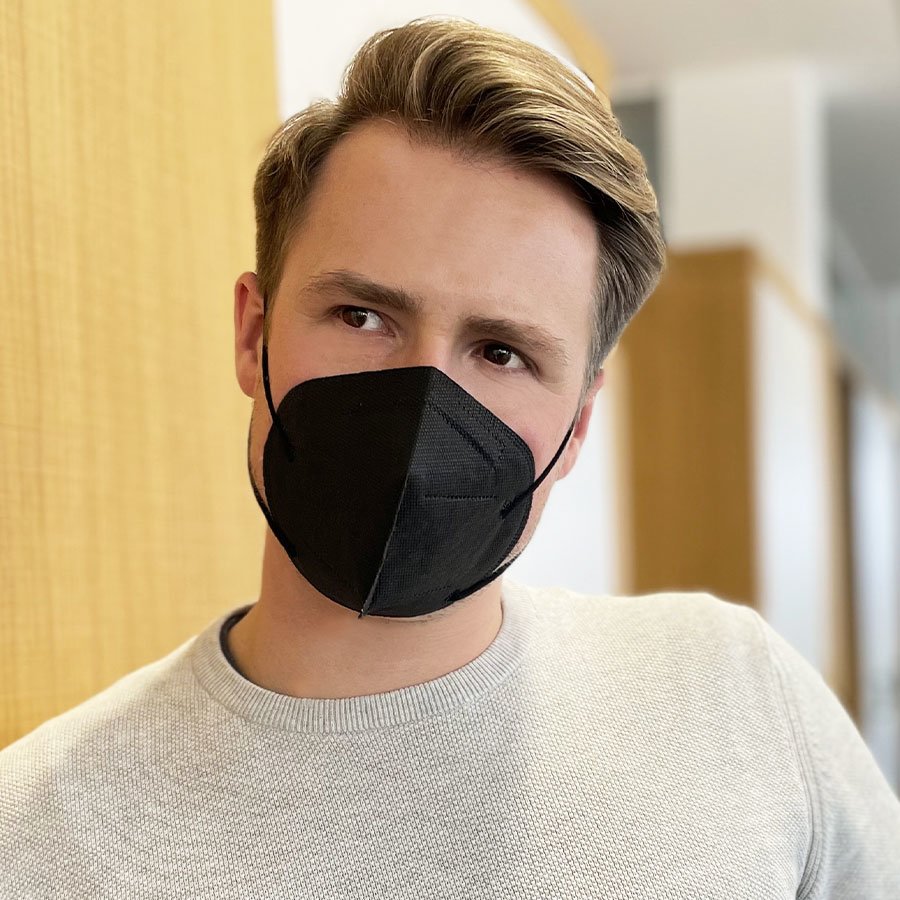 Consult your doctor in case of respiratory or heart disease. An N95 face mask can make breathing more difficult, especially if you have a chronic heart or respiratory condition. Talk to your doctor to see what other precautions you can take. You may be able to use a model with exhalation valves, which can facilitate breathing and reduce heat in the mask, although these versions should not be used if you need to maintain a sterile environment such as an operating room.
Consult your doctor before use if you have any of the following conditions:
Respiratory problems
emphysema
chronic obstructive pulmonary disease (COPD)
Asthma
Cardiopulmonary problems
Wash your hands well before putting on the mask. Use soap and water and dry your hands well so that the mask does not get wet. This will prevent you from accidentally getting infected before putting on the mask.
Hold the mask with one hand and place it over your mouth and nose. Place the mask so that the top of the mask rests on the bridge of your nose and the bottom should be just below your chin.
Try to touch only the outside and edges of the mask.
Pull the lower and upper straps over your head. If your mask has two straps, pull the lower part over your head and secure it around your neck, just below your ears. Next, hold the mask firmly with the other hand. Then pull the upper strap up and place it above your ear.
Mold the nose piece around the bridge of your nose. Adjust each side of the metal clip on the top of your mask with your fingertips. Run your fingers on both sides of the strip, running it along the bridge of your nose.
Look for alternative solutions for children. N95 masks are not designed for children and do not fit properly on their faces. Instead, if the air quality is poor, keep children indoors as much as possible. In the case of flu, corona, etc., take extra precautions, such as having children wash their hands before eating and after sneezing or coughing. You can also use masks that are made for children, although they are not N95 type.
Do not use N95 masks on children under 17-18 years old.
We pride ourselves on making the customer experience as simple, easy, and painless as possible. If you are comfortable placing your order through our safe and secure website, feel free to orderwholesale in any quantities you would like. If you are interested in placing very large orders, or would like to speak with our Sales Team before placing an order, please email export@prizma.net and we will be happy to discuss any options.